The Mohr Family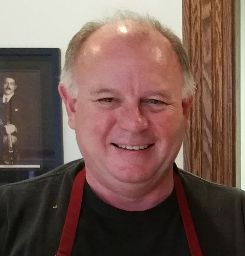 Rodney D. Mohr, Bow Maker & Restorer
Rodney has been a bow maker and restorer for over 30 years and has enjoyed many projects along the way. He has moved and restored an 1885 Queen Anne home called the McClellan-Clark House located in the Ashland Historic District. He is currently the chair of the Ashland Preservation Board for the City of Ashland. This position maintains the historic district's distinct characteristics and charm within the community.
He has also enjoyed tool making and antiquing with his family. You can check out his Facebook page. https://www.facebook.com/RodneyDMohr/
---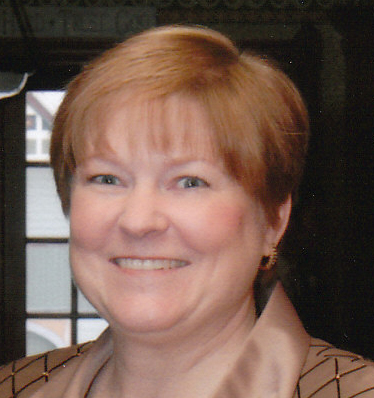 Ann L. Mohr, Managing Partner and Quality Control
Ann has enjoyed her career as a professional violinist in orchestras and small groups around Ohio. She has performed in many quartets and in leadership positions, such as Principal 2nd Violin, Assistant Concertmaster, and Concertmaster, Librarian, and Personal Manager. Her dream come true was as Executive Director of the Ashland Symphony. However, this was a very stressful and demanding position, which ultimately lead to her resignation.
She enjoys antiquing, turning pens, and spending time with her dogs Tatty and Tilly. Her favorite thing is watching the greyhounds run together at full speed. Ann keeps the house in tour condition for friends, family, and the historic district as she manages the grounds and exterior painting. The neighbor, Marty Iceman, helps her pick out all her plants and colors. Ann also loves watching old movies, especially horror movies, on TCM and MeTV.
---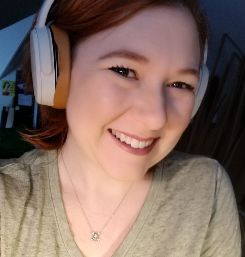 Katherine A. Mohr, Bow Maker & Repairer
Kate entered her first competition in 2016, receiving many compliments on her work. She assists her dad at the Learning Trade Secrets workshops, where he teaches bow rehairing, repairing, and making.
She loves spending time reading and listening to audiobooks with her son Wesley. They visit the Cleveland Museum of Art and the Cleveland Museum of Natural History where they have memberships.
Kate enjoys knitting and crocheting in her spare time. She also creates newsletters and Facebook posts for Learning Trade Secrets. Currently, she will perform her debut in a local play as a pregnant Episcopal priest's wife. You can follow Kate on Instagram and Facebook.
https://www.instagram.com/filledemohr/ and https://www.facebook.com/filledeMohr/

---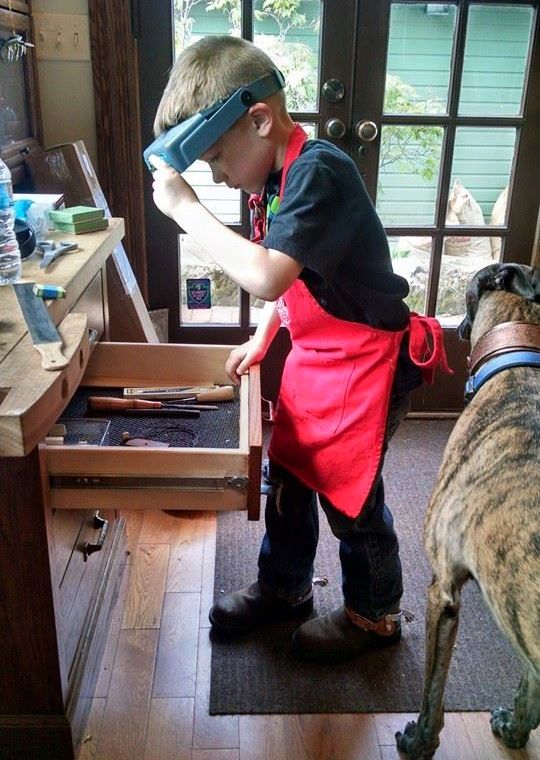 Wesley Burgett, Apprentice
Following in the family tradition, Wesley is learning the fine art of dressing like a bow maker with his red Spiderman apron. As an added style enhancement, Wesley has added his favorite boots and spurs. He is a fast learner and realizes that visors do not help when looking for the correct tool.
Tatty is quick to step in as Services Coordinator to make sure Wesley has his apron tied correctly and is ready for work.
Wesley loves to read and play video games like every 12-year old. He is in gifted classes at the middle school and loves learning about science. He has dreams about living on Mars and growing his food hydroponically.
---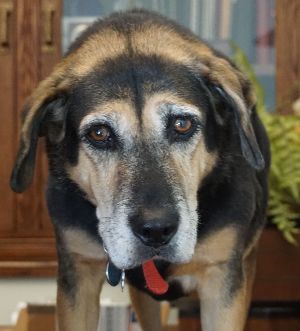 Zora, Director of Security
As Director of Security, Zora was responsible for greeting clients and making sure everyone had an appointment. At nearly 14, she had welcomed hundreds of clients over the years.
Zora periodically surveyed the property warding off unwelcome guests. She was in the process of looking for a replacement so she could enjoy her retirement when she passed.
Our beloved and loyal Zora passed on August 17, 2016, without the reassurance of knowing she had a replacement. The stress of the position was just too much at her age. We miss her dearly!
---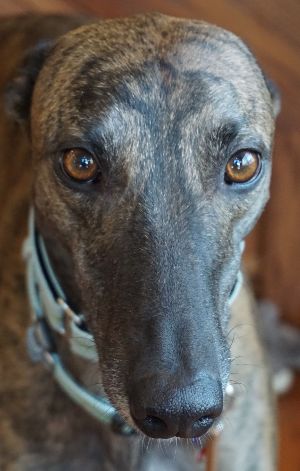 Flying Crocodile, Director of Human Resources & Quality Assurance
As Director of Human Resources since 2014, Crocodile comes as a retired racing greyhound with great leadership skills. During his short 4 year career, he completed a record 144 races. Although he may appear intimidating, Croc is very gentle, loves visitors, and works well with the staff making him the perfect choice for Human Resources. Crocodile doubles as Quality Assurance, often checking Rodney and Kate's work.
---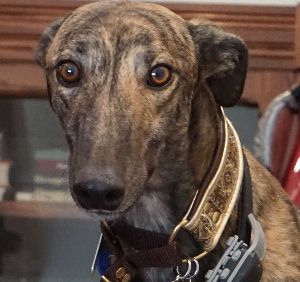 Atascocita Tatty Ruxpin, Services Coordinator & Pest Control
As the newest employee for Mohr & Mohr in 2015, Tatty comes as a retired racing greyhound. Barely 3 years old, Tatty's short career amounted to only running 28 races. Having such a high prey drive makes it difficult for Tatty to concentrate on his job as Services Coordinator, where he is responsible for promoting awareness of the excellent bow making and services provided by Mohr & Mohr. Tatty also doubles as Pest Control, occasionally indulging in sky raisins, where he is much better suited.
---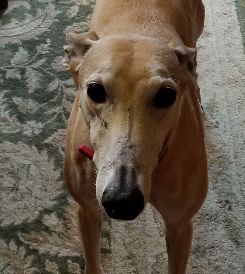 Atascocita Tetly, Administrative Assistant
Now called Tilly, she came to Mohr & Mohr in November 2015. During her 4 years as a racing greyhound, she ran an astounding 121 races. Perhaps not as impressive as Flying Crocodile, however she did learn some manners along the way.
Although she was not suited for the position of Security Director after Zora passed, she is an excellent addition to the staff as an administrative assistant. She is always ready for whatever Ann needs and jumps to her feet when paperwork needs filing. Tilly is very obedient and follows Ann everywhere waiting for direction.